So I partially lied to you all yesterday. I haven't been completely MIA, I actually have been up to no good and writing for some other sites. I know, I'm a total traitor. I expect an angry mob with pitchforks and "fire on a stick" outside my door. So, I think it's only necessary I let you all know just what I've been up to. I also am taking this time to show some of the COOLEST stuff happening on the interwebs.
INTERVIEW WITH THE STRANGE KIDS CLUB
I was honored enough to have an interview with the AWESOME folks at the clubhouse with the strangest kids in the blogosphere. They even made a super awesome graphic for it!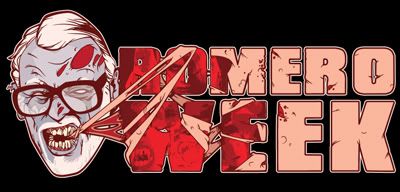 One of my favorite horror homies, Johnny of
Freddy in Space
, is hosting a week fully dedicated to the man behind the modern zombie. I've even got a guest post lined up for him :D

My poppa Pax over at Billy Loves Stu did a
tribute to the fabulous women
of George A. Romero =]
I'm proud to say that I'm now writing for the FABULOUS website
BLOOD SPRAYER
and last but not least....
Day of the Woman's brother blog,
The Vault of Horror
just celebrated their 1,000th post!
Congratulations B-Sol!