Jessica, the alpha bitch of Theta Pi played by Leah Pipes, is that special girl everyone loves to hate. Jessica masterminds the prank that goes horribly wrong and ends in the death of fellow sister Megan. Taking her anthem "You cheat on one Theta, you cheat on every Theta" a bit too far, she convinces Megan's cheating ex boyfriend Garrett that he has killed Megan with a ruffee overdose. Intent on drawing out the prank and prolonging Garrett's freak-out, Jessica and the gang drive out to an abandoned mining site to dispose of the "body". Milking the prank for all it's worth, the girls split up to find blunt objects with which to dismember Megan. All is well until Garrett, in an alcohol induced panic, plunges a lug wrench into what he thinks is Megan's dead body.
Megan, played by Audrina Patridge of The Hills, dies in a pool of her own blood and Jessica naturally
leads the cover up. She tells the others that if she was in Megan's place, she wouldn't want her sisters to ruin their lives over something that can't be changed. Hurray for sisterhood.
Jessica convinces the other girls (some by force as she wraps Megan's body in the reluctant Cassidy's bloody jacket) to throw Megan's body down a mineshaft and form a secret pact. That is, until a hooded killer starts offing everyone involved with Megan's death.
Though Jessica can be a caustic bitch, her biting comments make for most of the comedy in Sorority Row. Her disingenuous remarks drip with sarcasm as she warns Megan's sister, Maggie not to venture out in search of the killer. She is responsible for one of the film's few nude scenes, as she forces a junior sorority sister to walk across the house naked for using the senior showers. She also has no problem mowing down a distraught Garrett with her SUV. As the rest of the girls gape in horror, she cries out in a miffed tone "He was threatening you with a knife. You should be thanking me."
Even the Theta Pi House mother Mrs. Crenshaw, played by Carrie Fisher, knows how much of a bitch Jessica is. Thinking Jessica is the killer, she clocks her in the face with the butt of her shotgun, giving Jessica a bloody nose. But even after Mrs. Crenshaw discovers she's hit Jessica, she tells her "You've had that coming for four years."
Jessica is so entertaining in her role as mega bitch, that the audience is almost disappointed when it's her turn to die. Confronted with the killer, she tries to talk her way out of a bad situation, a strategy that has worked well up until now. This time it fails horribly, and the killer shoves his knife-tipped tire iron into her mouth and out the back of her head, complaining, "That bitch never knew when to shut the fuck up."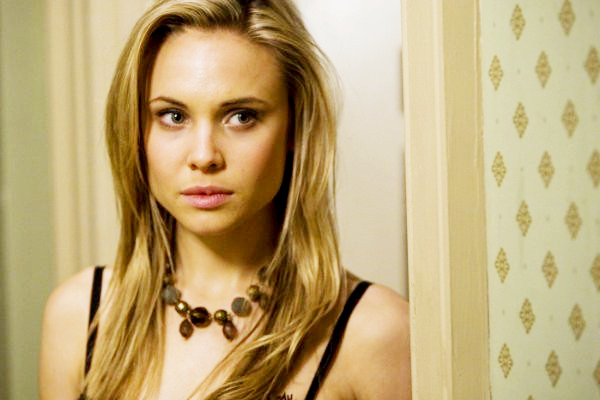 Jessica never did know when to shut up, but we loved her bitchiness just the same. So here's to you Jessica, we may have hated you but we hated to see you go even more.