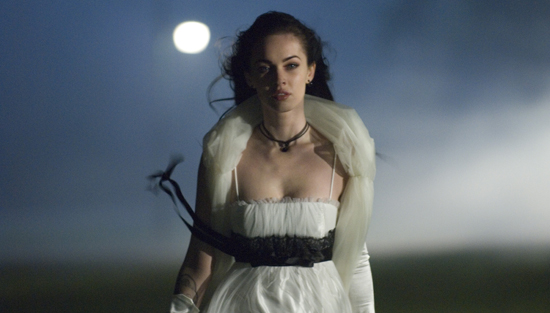 I seriously have always wondered what happens if someone sacrifices a girl to Satan and she wasn't a virgin. You know what, now I know...and I sort of want to be sacrificed right about now. This film is hilarious and screw what everyone says, I LIKE IT. Personally, I wasn't expecting to be terrified, I wasn't expected to be blown away by Oscar-Worthy acting jobs, and I wasn't expecting to run in the streets and tell everyone of its brilliance. This film IS exactly what I expected so I walked away happy. Megan Fox is as shittacular of an actress as she could possibly be and watching her try so hard to be a good actress made it all the more enjoyable. People put this film too high on a pedestal before seeing this in my opinion. It was so over-hyped that people completely forgot about their preconceived notions and actually expected something.
Does the film have its problems? Of course, all films do. However the horror blogging community has been ripping this film to shreds and it doesn't deserve as much shit as it's getting. As much as I adore
Brad McHargue of I Love Horror
, I must disagree with something he said in his review
"

This woman has absolutely no grasp on reality, convinced all teenagers live in their own self-involved world and communicating through a made up language indecipherable to anyone with a fully developed brain or lacking the latest book of Cody-speak. Every single line is peppered with faux-teenage slang, itself an affront to teenagers existing on this plane of existence, and spouted out by wooden characters.
" Well dear, this is where my age DOES come in handy. We DO all live in our own self-involved worlds and comunicate through made up languages that people don't know how to decipher. One of the reasons that Juno was so successful is because she spoke our language and she was right on point. We do sound like that, we do make unnecessary comparisons using pop culture references, and we do use faux slang.
The other thing I liked and can vow for, is that the two characters of Jennifer and Needy are realistic. I know girls exactly like them, they may not necessarily hang out together but girls like them do exist. Using their hip lingo that makes them sound half awesome and half handicapped, these girls are EXACTLY like ones I went to high school with. How Diablo Cody understands completely what teenagers today sound like is beside me. Anyway. I love the fact that the two characters are so 1990's teen movie it hurts. Needy is straight out of
She's All That
and Jennifer is just a walking prototype for Malibu Barbie but from the young Angelina Jolie line. Cody wasn't trying to give us these super deep characters, she gave us vapid teenagers in a horror comedy, we're all just taking it way too seriously. We keep analyzing this film like its the freaking DaVinci Code, and it's not. It's a film with Megan Fox in it for christsake, what were you expecting?