Everyone knows that Tuesday is my favorite day of the week because I get to rip apart a crappy poster. Yesterday, Tuesday was the best day of the freaking YEAR. I went to my wonderful dorm mailbox and saw a glimmering piece white paper that notified me that I had a package! Was it a care package from my mom? Was it my new wardrobe from Forever 21? NO! IT WAS MUCH MUCH BETTER! It was my edition for review of
Hammer Glamour
by Marcus Hearn. Official description states: "Titan is celebrating the sexy sirens and distressed damsels of a cinematic institution this Fall in the gorgeous coffee-table collection
HAMMER GLAMOUR
."
Just look at the cover, how can you not lose your freaking mind? I am absolutely OBSESSED with this book. I could barely flip the pages without flipping schitt, so I just HAD to feature the women of Hammer for my WotW.
Hammer Horror is honestly in a league of its own. Using a perfect combination of flaunt, terror, and sex; the Hammer Horror series have gone down to be some of my absolute favorites. The series began with The Curse of Frankenstein and initiated a series of films that lasted almost two decades. Now that your little history lesson is done, let's focus on the women.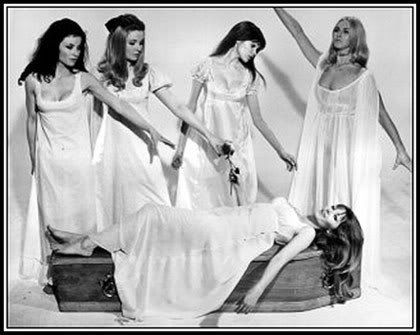 The book itself features over 50 of the goddesses Hammer put in his films, and I'm going to lightly touch (God I wish...) some of my personal favorites that the book also felt necessary to flaunt to you fine readers.
URSULA ANDRESS
:
She began her career as Honey Ryder in the Bond film
Dr. No
, and became the epitome of what a Bond girl was supposed to be. She was hot, she was white bikini clad, and she was fierce. So fierce that she nabbed the major role in Hammer Film Productions film
She
. Playing Ayesha aka She-Who-Must-Be-Obeyed, Ursula was absolutely breathtaking on screen. She plays the leader of a lost realm, an immortal queen and former high priestess. I don't know about you, but I'd be more than willing to show up to church if she was my high priestess.
VERONICA CARLSON:
One of the best loved of all of Hammer's leading ladies, Veronica Carlson has three Hammer films to her resume. The lovely lady wore pink in all of her roles in Hammer films to showcase her femininity. Her first appearance was in
Dracula Has Risen From The Grave
, which was followed by
Frankenstein Must Be Destroyed
, and
The Horror of Frankenstein
.
HAZEL COURT:
The first pinup girl for the Hammer Horror franchise was only in two films for the company! She was named number 11 on
The Vault of Horror & Day of the Woman's 20 Hottest Women of Horror
, and by the looks of that picture alone, I'm sure you know why. Her autobiography published shortly after her death was called Horror Queen, and that's exactly what she was. For Hammer Films, her role in
The Curse of Frankenstein
was absolutely iconic and it's impossible to forget her in
The Man Who Could Cheat Death.
MARIE DEVEREUX:
Oh lord if tits could kill...
With a whopping five Hammer films to grace her resume, Marie Devereux is arguably one of the most memorable of the Hammer girls. Not only did she act, but then up-and-coming actor Michael Caine introduced her to legendary photographer George Harrison Marks who changed her name from Patricia Sutcliffe to Marie Devereux. Marks also made Marie one of his absolute favorite nude models. With a rack like that, how could you disagree?
JULIE EGE:
I have to give props to a fellow beauty queen, and Julie Ege was a former Miss Norway. Holla. as Hammer's most heavily promoted glamour girl of the 70's she's definitely a favorite of most (
one being B-Sol of VoH...)
Starring in
Creatures The World Forgot
and
The Legend of the 7 Golden Vampires
, the woman with killer cheekbones invaded our lives...and our labidos. Creatures The World Forgot was definitely X-Rated and we can attribute the sizzling silhouette of Julie Ege for most of that. She became one of the earliest Penthouse Pets :) Sadly, she passed away from lung cancer on April 29, 2008, after surviving breast cancer 20 years previously.
CAROLINE MUNRO:
She is my personal favorite of all of the Hammer Horror Harlots.
Her performances in
Dracula A.D. 1972
and
Captain Kronos Vampire Hunter
is what shot her to number 10 on the
Hottest Horror Women of all time
list. One of the sassy and sexy women of Hammer Horror, Caroline Munro grazed the screen in numerous forms. A former Vogue model, her big break was performing as one of Hammer's girls. She however turned down many roles because they required nudity, such a shame ;)
INGRID PITT:
Breathtaking, absolutely breathtaking.
I am pretty sure the image in
The Vampire Lovers
will forever be burned into my brain. If that doesn't do it for me, her performances in
Countess Dracula
and
Beyond the Rave
should do the trick. She has been said to be the most emblematic of all the screaming sirens associated with the Hammer Horror company. She had eyes that could sear the soul, and a facial structure that women could only dream of...I love her.
BARBARA SHELLEY:
Having probably the most films to her name under the Hammer company with
8
films, Barbara Shelley is probably the easiest woman to pin with the Hammer name. A classic beauty, Barbara gave face to some of the best of the Hammer films. I recommend
The Shadow of the Cat
, that's my favorite of hers :D
MADELINE SMITH:
Oh Madeline Smith...the image of you and Ingrid Pitt has completely SCARRED my little mind for all eternity, but I never once said that was a complaint. Those eyes of hers are probably the most haunting and drawing eyes since Twiggy. Apparently I'm not the only one who believes so as she is the cover model. Those doe-eyes and that perfect pout made her a star in three of Hammer's films.
WANT MORE HAMMER GLAMOUR?
The book hits the shelves on September 29th.
GET IT!