Thanks to the wonderful world of twitter and the leading ladies over at
Pretty-Scary.net
, I was brought to an article that I at first had no words for. PoppaScotch over at
Horror-Movies.ca
apparently believes that Feminist Horror films do not exist and he hates that the only reason
Jennifer's Body
is getting so much press is because it's a "feminist" film. I am going to respectfully disagree. I stress the word respectfully because I'll admit it's taking every ounce of strength I have not to completely lash out and be a complete bitch about it.
1) Let me first say that he's not a dick, he's just a little bit misinformed. I say that because I don't want my readers thinking I'm going into this arguement under the mindset that "he's just a dick" which is what most people think teenage girls use as ammo in their arguements. Maybe I'm bias on the "feminist horror films" debate because I am a woman and I DO look for these kind things. Because I'm a woman maybe the signs are a little bit more obvious to me. It's the same way that men laugh harder at first at films like
Superbad
when they make boner jokes, because they are well aware of how they are. It goes the same way for women. When I see a "feminist" action, I can pin-point it, because I am a woman. I see him as just a typical guy thinking he knows what he's talking about but he doesn't. It happens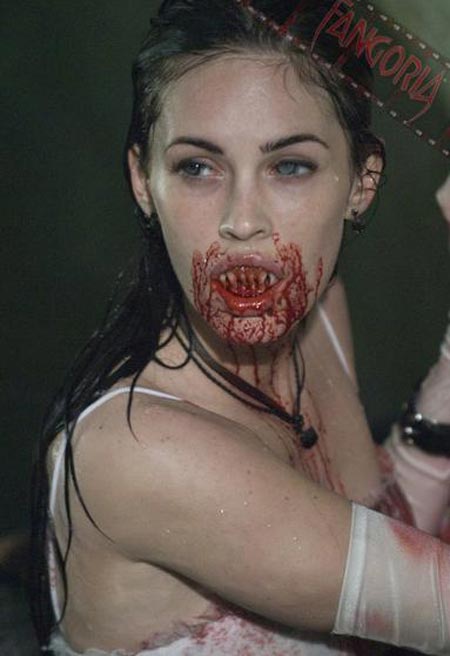 2)
Jennifer's Body
is NOT a feminist movie.
Heidi Martinuzzi of Pretty-Scary
said it best.
Any film with a female protagonist in horror who does NOT use her sexuality to survive or kill is a feminist horror film because it promotes EQUALITY between the female and male characters in the movie and does not create a situation where women must use or abuse their sexuality in order to have any kind of power.
This film is the complete and polor opposite of that. The main character is seducing men, and killing them. It's like
Species
all over again.
Jennifer's Body
is actually a woman "hating" film. It's a classic example of men not being able to trust women or the vagina. It's a modern adaptation of a succubus or a siren. Since the ancient times, athletes have been told not to mess around with women before any sort of competition because it's going to "take away the edge or take away their strength". This film is a literal example that this woman will literally EAT you alive. This isn't a feminist film or even close to it.
3) Even if
Jennifer's Body
WAS a feminist film, that's not the reason that the film is getting so much attention. I proudly admit that I use google to find 99.9% of the images I use on my blog, and when I typed "Jennifer's Body" or "Jennifer's Body Megan Fox" almost the first 4 pages of images were of the skinny bitch prancing around half naked on a dock. If that doesn't tell you why the film is getting so much publicity, then you're seriously living under a rock. There's no secret hidden meaning as to why this film is being publicized to all holy hell. It's Megan Fox, half naked, kissing other girls, being seductive, and being a teenager. Do I need to spell it out any more? She may be dumber than a box of rocks and the queen of shittalking, but like her or not, she is THE sex symbol right now. She's young, she's gorgeous, she has a killer body, and every guy wants to bone her. The fact that she's in a movie where she's using her sexuality as a weapon is guaranteed to get a film talked about.
4) Yes PoppaScotch, there ARE feminist horror films that people can identify as feminist horror films. Um, HI. My blog is named Day of the Woman, as in
DAY OF THE WOMAN aka I SPIT ON YOUR GRAVE
. One of, if not THE most identifiable feminist horror film in existence. If that doesn't do it for you, look at films like
The Alien Series, Texas Chainsaw Massacre
, and countless others that I really don't feel like typing out. He makes a comment about how the women use phallic objects to kill "blah blah blah". My question to you is, WHAT ARE THEY SUPPOSED TO USE? Guns, knives, baseball bats, golf clubs, and even an arm with a fist at the end of it are all considered "phallic" objects. I don't know about you, but hitting a guy with a designer bag or a shoe just isn't going to do the job...
5)
A commenter also set me off a bit. WIL, commented: "

Why can't women just watch horror films without letting everyone know they have a vagina?

" Honestly, because it is an important factor. Not only am I a very young horror blogger with what I would like to think is an immense amount of respect from other bloggers (at least Horrorblips thinks so ;)) but I am also a GIRL. Girls are stereotypically not expected to watch let alone enjoy horror films so you know something, I WILL let you know that I am a woman. I'm damn proud that I spend my evenings watching slasher flicks rather than crying over some Nicholas Spark's film. The same way that men who are proud to wear pink let everyone know how secure in their sexuality they are. It's a double entendre. My main problem with the comment, though, is that I don't watch horror films. I live them.
Horror films are a HUGE part of my life and so is the fact that I am a woman (ROAR!) What also needs to be addressed is that women don't just watch horror films, they write, direct, analyze, and adore them. I am not the only female horror blogger, and I'm not the first one either. We're everywhere and we will continue to be everywhere for years to come.