Happy Friday Womanizers! I know I've been a bit on the slacker side lately, but my semester is totally kicking my ass and well, I would like to graduate eventually and be a productive member of society someday. Anywhoo. Since it's Friday I wanted to give you guys something fun and entertaining. I could easily write about something super serious, but I'd rather not. So lets talk about about something that some of you may not be that big of a fan of. I'm talking PARODIES! I love a good laugh as much as a good scare and when I can have both in one sitting, that's just having my cake and eating it too. Today I'm focusing on parodies, NOT zombie comedies, they're in a league of their own. Different story for a different day.
COMPOSITE HORROR MOVIE PARODIES

The absolute easiest way to parody a horror film, is to make a movie out of it. You can keep the characters and their basic functions (like you know, stabbing) but put them in hilarious scenarios. Here we see the Ghostface killer chasing a girl...while she's running track. I tried to screen cap when they run by and both are given "Killerade" on their last lap. However I suck at screen caps. Films also give you the opportunity to make puns out of any and everything. The Scary Movie franchise is absolutely PRO at that. People like to see things they know and love being parodied. Why do you think people laugh at good impersonators? My favorites...
Scary Movie, Shriek If You Know What I Did Last Friday The 13th, Student Bodies
CHARACTER PARODIES

Everyone has that one character that they absolutely love and cannot get enough of. The day they come out with a parody film for Karen Cooper will be a GREAT day for me. Anyway, many of my favorite movies are actually character parody films. The more well known the character, the more the audience will appreciate the tribute. Parodies aren't meant to be insulting, they're supposed to be fun! If you can't laugh at something you love, what do you have to laugh at?
I recommend...
Young Frankenstein, Saturday the 14th, Dracula: Dead and Loving It, Reposession, Teen Wolf, Teen Witch

SOMETHING FOR THE KIDS

Oh childhood, how I miss thee. When I was little, we used to have the coolest parodies. There tends to be a TON of horror parodies for kids because we are blessed with holiday specials of our favorite shows. Almost every cartoon has a Halloween special. There's something about making horror "kid friendly" that makes me love the characters so much more. I don't know why, I guess hearing my daycare discuss zombies has something to do with it. My favorites are...
Hyde & Hare, The Spongebob Zombie Episode, Beetlejuice, and Night of the Living Duck

TELEMUNDOOOOO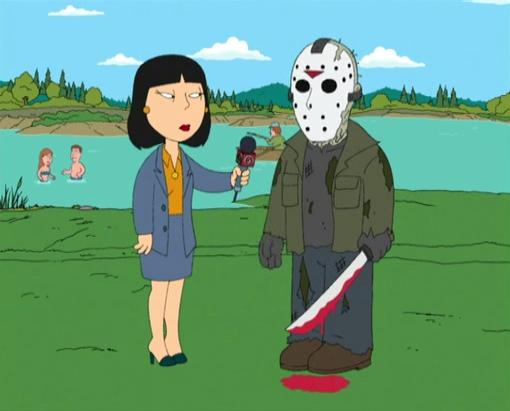 I watch an unhealthy amount of television and I always get unnecessarily excited whenever my favorite horror characters pop up in television. Lately however, I've found that people have gotten REALLLLY good at interlacing horror characters into daily television. You can't escape it! Check out...
Family Guy's 3 Kings, The Simpson's Treehouse of Horror, That 70's Show's Tribute to Hitchcock, Robot Chicken (they have at least one horror every friggen episode), and SNL's skit about Dracula being worried about AIDS.
AND FOR THE REST OF YOU FREAKS...
Check out this entry of hilarious Horror Porn titles at Billy Loves Stu