You know, I'm sort of tired of these T-Shirts at stores all about Vampires and such. Granted I'm a fan of anything supporting
True Blood
, but 90% of the people buying these shirts are a bunch of Twatlight wankers. What about the ZOMBIES?! Zombies are like the UNIVERSAL appreciation of horror. Vampires aren't that cool to me. They're wayyyy too complex. Okay so I'll admit that Vampires have the whole "sexy" factor in most cases but you know what...That's all they've got. Vampires have become all the rage and have taken the place of Zombies as the coolest monsters. Why has this travesty occurred? Well, i happen to have a bunch of reasons as to why the general public is highly mistaken....
REASON 1) THEY'RE TEN TIMES SCARIER
:
Face it, if you saw a Vampire, you just hold up a cross, get some Italian food, or some Jesus Juice and your problem is solved. Zombies...you're just screwed. You can't reason with them! They're not suave and sophisticated whatsoever. They're not interested in foreplay. They just want to eat you. Vampires on the other hand, want to toy with you or something, you can seriously escape or beg your way out of it in some cases. Zombies...no way jose. Vampires worry too much on making themselves pretty, ZOMBIES ARE ROTTING CORPSES. Much scarier.
REASON 2) ZOMBIE KIDS ARE COOLER THAN VAMP KIDS:

We all know that my heart is with little Eli from Let the Right One In, but I gotta be honest man...zombie kids are way cooler. I mean, how many people walk into a tattoo parlor and ask for an Eli or a ringlet curled Kirsten Dunst? Not many...but Kyra Schon has an entire section on her website dedicated to those who have gotten Karen Cooper forever engraved onto their skin. Plus, are Vampire kids even kids? No. They're like 400 years old trapped in a child's body. They might as well be "little people" (if that's not the PC term...sorry). Could you imagine having a 400 year old woman telling you about "back in her day" but in the body of a 12 year old? SHOOT ME. I'll take a rabid 11 year old trying to eat me anyday.
REASON 3) KIDS LIKE ZOMBIES BETTER:
If you didn't catch my video yesterday of my Ma's daycare talking about how to Survive a Zombie attack...go there now. Around Halloween, there's nothing better than a bunch of face hollowed out children begging for candy. I give the children with those stupid plastic fangs (that are seriously something Pavlov could have invented with the amount of spit they produce) less candy for wimping out with that. Vampire fangs on kids just aren't cool. It's honestly more fun to pretend to be a Zombie. Plus, kids understand the concept of what zombies will do to you even easier. They're goofier to kids, which makes them more fun to imitate. What do kids do dressed like vampires? Make spit.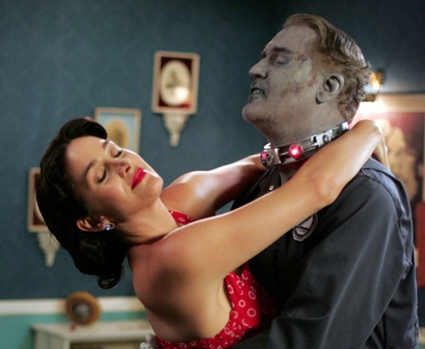 REASON 4) ZOMBIES ARE AMERICAN! *insert southern accent here*
Vampires are just plain snooty. They've got their velvet coats, and their ascots, and their pointy shoes, and their tights, but who GIVES A RIP?! On the other hand, Zombies are the working man's monster! Zombies are A-MER-I-CAN! None of that Old World bull-oney. If you want to get technical even...the legend originates in Haiti---which IS in Central
America
. The modern zombie as we know it...comes from Pittsburgh. They may have appeared in other countries, but they originated with US of A. (Okay, if you take this seriously and think I'm an ass for saying this...you're on the wrong blog. It's all fun and games mang.)
REASON 5) ZOMBIES MAKE BETTER COMEDIES.
I'm a woman who likes her zombie just as much as she likes her comedies, and lets face the facts...zombies are just funnier. There's nothing funny about someone with fangs, ever. I mean, zombies don't just get comedies, they get HILARIOUS ones.
Shaun of the Dead, Fido, Dance of the Dead, Return of the Living Dead
, etc etc. The list goes on forever. What to Vampires get? Uh,
Once Bitten
or
Love at First Bite
...take your pick. They DO get
Dracula, Dead and Loving It
...but if that's your shining moment in comedy....jinkies.
REASON 6) ZOMBIES HAVE BETTER LITERATURE:
Let me just say that as a proud Cubs fan, I've been raised to acknowledge something fabulous, but to never live in the past. Vampires yes, Bram Stoker is GOD....but what else do you got? Anne Rice hasn't written anything worthy in the past 20 years, the books True Blood are based on aren't that good (the show is way better), LTROI is good yes, but that's really all they have. I mean what good Vampire books have come out since 1992? One, maybe? Zombie books have just been FLOURISHING.
Breathers, Pride & Prejudice & Zombies, World War Z, Patient Zero
, etc. etc. etc. Zombies are EXPLODING in literature today. Eat my box Twatlight...
REASON 7) ZOMBIES HAVE NO RULES:
Vampires come with stereo instructions it seems. They have a billion and one lame rules. Don't go out in the daytime, stay away from holy water, stay away from garlic, must enter a room by being let in, stay away from crosses, stay away from blonde 90's babes, you can't enter holy ground, avoid mirrors as you have no reflection, can't cross running water (like a river), stay away from streetlights as you have no shadow, oh and don't get your picture taken cause...you won't show up. Zombies? Fuck that noise, they do whatever the hell they want. They do seem to not like fire that much, but then again...who does?
REASON 8) ZOMBIES ARE BETTER KILLERS:
Face it, Vampires have about one or two ways to kill. They drain the blood in some way or they just bite the neck/wrist/whatever. It's so boring and predictable! Zombies on the other hand, they have about 934593842057 different ways to kill someone. They rip, tear, maul, eat, devour, trowel, shove faces into wooden spikes, blow up cars, and hell BUB USED A GUN. Zombies are just cooler killers. AND WHEN'S THE LAST TIME YOU SAW A VAMPIRE FIGHT A FUCKING SHARK? Yeah sit down.
REASON 9) ZOMBIES EVOLVED BETTER:
If you think back to the NOTLD zombies, we had some dead people with darkened makeup, now if you look at the Zombies of today, they're equipped with rotting flesh, missing body parts, blood gushing from all over, and they've even picked up speed in some cases. They've developed a minor amount of intelligence to make them even more terrifying. Vampires...they've just gotten prettier and sparklier. How lame.
REASON 10) THEY RULE THE VIDEO GAME WORLD
In our technology ruled society, video games do have a huge impact on our younger generations. I'm proud to say that the dear old zombie is teaching our young kids the way of the undead fabulously.
Left 4 Dead
is one of the craziest games to enhance your target practice and
Dead Rising
throws you right into a world that looks so much like
Dawn of the Dead
its eerie, plus it teaches you that ANYTHING is a weapon in the case of a Zombie outbreak. Vampires...not so much. All of their games are either stupid RPG games or non-existant. I'll take a boomstick and some virtual monsters over watching some stupid vampire float around to crappy music.