So The Vault of Horror put us horror snobs on a mission to give people the "must see" films aka the
Ultimate Horror Canon
. I wanted to be an unconventional conventionalist and the list I gave him didn't include that many films that people would expect to see. Having to think of films that aren't necessarily "great" films by any measure but are must sees has inspired me to give you fine womanizers A LIST! So I racked out my little brain and my 19 years of horror film obsession to think of 10 films I think every horror fanatic should see but not necessarily very often. I could recommend Halloween or Zombi 2 but continue to watch them every day of my life, but other films for instance...not so much. Some films are vital to experience to call yourself a horror fan but not necessarily ones to watch every day of your life. If you did...I may have to worry about your well being
.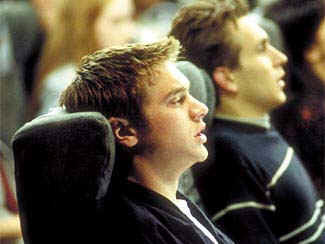 10) THE FINAL DESTINATION SERIES
The FD film franchise are probably some of the absolute worst written storylines to ever hit the horror screens. Yet here we are almost a decade after the first film, and we've got a new one (and supposedly the last one) in the works in 3-D. The reason I'm recommending this film series is for the insane kills. A friend once told me that horror films are like porn, you're not looking for a good story...you just want the action you signed up for. FD does exactly that. Bodies split by barbed wire, tanning beds baking girls alive, staple guns in the chest, pvc pipes through the head, and being impaled on a knife before burning to death are just a few of the insane ways these kids get offed. Not to mention, I firmly believe these films have the best openings to horror films and the opening of the 2nd film has the best car crash in a film ever.
09) JESSE JAMES MEETS FRANKENSTEIN'S DAUGHTER
With a title like that, is there really much more that needs to be said? The title itself tells you exactly why you need to see it, and why you don't need to ever see it again. Talk about killing two birds with one stone. I would kill to have been a fly on the wall when William "One-Shot" Beaudine agreed to direct this film. If this title was ever pitched to me, I'd question the writer's sanity. Then again, this is the same dude who made
Billy the Kid Vs. Dracula
and
Bela Lugosi Meets a Brooklyn Gorilla
. I don't know whether or not I think this guy is brilliant, or absolutely insane. Either way, I love what he's brought the genre, because there is truly NOTHING like his films.
08) DAY OF THE WOMAN
I personally can sit through this film all day, everyday. (Hm, now why would anyone think that ;]) I have found however, that not a lot of people feel the same way I do. With a record 26 minute rape scene, the murder of a mentally retarded person, sodomy, brutal murder, a dick chop, and an absolutely traumatizing skull rape; I can only imagine what people who aren't obsessed with horror think of this description. The film is by far the GREATEST rape/revenge film ever made, but I'll admit it's a bit much for the average bear.
07) BLACULA
This film is nothing more than a curiosity. A blaxploitation take on classic horror. It's a novelty film, because if you take away the fact that he's black, it becomes a pretty bad and forgettable movie. However, the fact that he is black is what MAKES this movie. The reason to see it is for historical significance, since its the first horror movie to ever do that, not because it's deserving of an Academy award. Without this film, we wouldn't have stuff like
The Wiz
. To be honest, I don't know if I could live in a world without
Ease on Down the Road
...so I thank William Marshall every day for
Blacula
.
06) REPO! THE GENETIC OPERA
Throw stones if you must, because this film is totally deserving on this list. When I first saw R!TGO I was absolutely infatuated with it. It combined musical theatre, and horror...HOW CAN YOU GO WRONG?! Well, after watching it a few more times, I can clearly see where you can go wrong. A spy kid should not be singing, the grave dood needs more songs, and Sarah Brightman needs to be on screen every 5 seconds. The film is absolutely fabulous, but totally overrated. It's a need to be seen, but we horror folks sort of made it to be a cult classic a week after its release which it totally doesn't deserve. It's got some great songs and Darren Lynn Bousman has some frenchin' SWEET ideas, but it's not anywhere near
Rocky Horror Picture Show
.
05) INSIDE
Like I said when I put it on my recommendations...SICK SICK SICK SICK SICK SICK SICK SICK SICK SICK SICK SICK SICK SICK SICK SICK SICK SICK SICK SICK SICK SICK SICK SICK SICK SICK SICK SICK SICK SICK SICK SICK SICK SICK SICK SICK SICK SICK SICK SICK SICK SICK SICK SICK SICK SICK SICK SICK SICK SICK. There really isn't much more to say. The film is mind blowing but also emotionally scarring on so many levels. I don't know, the whole pregnant thing really screws with me as a woman, maybe its the same effect
Day of the Woman
has on men...regardless, its sick. AWESOME, but sick.
04) DON'T TORTURE A DUCKLING
I would love to tell you that Fulci has never made a less than stellar film, but then I'd have to exclude this one. The only reason I would even think of recommending this film to you fine folks is because this is the one that really started the Fulci that we know and love. This is the film that started his over the top gore, excessive use of blood, and extreme violence. As it is the first, he didn't exactly have all the kinks worked out of it yet. This film is also an either "love it or hate it" sort of film. A lot of people will tell you they believe it's Fulci's best work, I personally think they have it confused with "most intense" work. I find it directed the poorest, but one of his goriest. Despite its night and day reviews, it is a MUST see for any horror fan, at least once
03) LAST HOUSE ON THE LEFT
So there's this little known horror director named Wes Craven who came up with these two characters that sort of made a huge impact in that whole 'slasher' genre that the kids are all up in arms about. But before there were prank phone calls about F13 and a dream killer, there was LHOTL. It must have made some kind of an impact because it was recently remade and I will say, impressively. This film seriously goes where no film goes. It's incredibly graphic, has your typical 70's "video nasty" rape scene, and evolves into a downright gore fest. It really shows me what Wes Craven is capable of and proves that he really is a genius. I have been de-sensitized and I have no problem with this film, but I can name people who can't sit through this film in its entirity.
02) PLAN 9 FROM OUTER SPACE
If I didn't know any better, I'd think Ed Wood filmed this piece in his back yard. The B-Movie of all B-Movies it hails as the Best Worst Horror film ever made. Either he pulled out his character list out of a hat, or he has some insane ADD. Quite possibly the worst film ever made, it truly has to be seen to be believed. I honestly didn't think a film could be THAT bad, but then I actually watched it. It's enjoyable as long as you don't take it seriously, but when you come to your senses and realize that they WERE taking it seriously...you can't decide whether to laugh or cry.
01) CANNIBAL HOLOCAUST
I have seen so many films that I can sit through almost anything without flinching, but nothing has truly torn at my heart strings as much as this one has. I can honestly say that it made me re-think the way I view the world around me, and made me want to vomit. I never would condone killing an animal for purposes of entertainment, but the more I've dissected this film...the more I think that this film wasn't meant for entertainment. I think that every horror fan should see this film just once, because the impact lasts a lifetime.