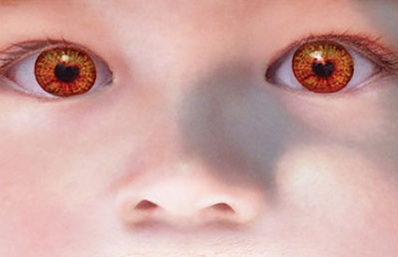 I'm sure everyone who hasn't been living under a rock has heard of the new film
Grace
that is sweeping the film fests. The story tells of a young woman named Madeline (played by Jordan Ladd) that has an accident in the penultimate month of her pregnancy, sadly resulting in the death of her unborn child. She decides to carry the baby to full term and deliver it, born a stillborn, the child appears to be miraculously resurrected after Madeline "wills" it back to life. Truly a miracle baby, she names her Grace. Soon, Madeline learns that her Amazing Grace has a taste for human blood. The mother is then thrown in the tricky conundrum of "how far will you go for your child?" I want more than anything to be excited for this film. I've heard nothing but phenomenal reviews and have read that people apparently fainted at the film. I know it's going to be great, but I can't shake the image of a giant green plant begging for Rick Moranis' blood. Granted, I know this film isn't going to have the songs, dance numbers, Do-Wop background commentary, or Steve Martin...but I truly think musical theatre has desensitized me. It is so much like Little Shop. A widow/a loner, a failed child/a failed life, wills baby to live/finds amazing plant, discovers its hunger for blood/discovers its hunger for blood, starts killing to feed it/starts killing to feed it....see what I mean? On the surface, they're very very similar.
I'm aware of the whole "mother-daughter" love undying mambojambo, I get it. (So don't be commenting with, "oh you're missing the point"). I'm just saying, this idea isn't anything new. Poor Seymour loved Audrey II and would do anything to keep her alive, in the same way Madeline will for her daughter. To be honest, I think it's more fucked up for a scrawny guy who shrinks kids to kill for a plant than it would be for a mother to kill for her child. Look at Liam Neeson, in
TAKEN
he kills like 32 something odd people to find his daughter.
I know the film is going to be amazing and I give MAD props to Paul Solet for bringing his 6-Minute short to life in a feature film, but I don't think the premise is anything out of the ordinary. The way it's put together & the script...that is going to be the extraordinary presence that
Grace
will bring to us. It's going to throw us out of our seats because we're dealing with a baby and NOT a 20 foot Soul singing, foul mouthed, man-eating, Venus Fly-Trap. You know something, I'll probably love it just because it reminds of me of little shop...anytime something can make me be reminded of Ellen Greene's amazing hair...it's a good thing.