Since I've taken a completely unfair leave of absence lately, I decided to treat you Womanizers (gawrsh, that just rolls off the tongue) with one of your voted on specials. I could have chosen just one bitch from some famous film, but I went balls to the wall this time! Not really, I just chose a film that has two incredible bitches that you can't wait see hacked off. Two girls that get us flustered watching them, two girls that make us want to hold them down and pour mouthwash in their eyes until they stop moving their cock preparing traps. I'm talking about Camp Arawak's finest...Judy & Meg.
Let us begin with Meg. That's Meg, M-E-G. First of all, I think MEG versus Megan or something is really gross. It rhymes with Egg, and egg's creep me out. If I offended any of you Meg's out there....change your name. :) Anyways, so stupid bitch Meg is just a power-tripped little twat mongler if you ask me. She's a freaking camp councelor but if you didn't know any better, you'd think she was the second coming of Horemheb.(He's a Pharaoh...google that shit). When she's not terrorizing Angela for being Zooey Deschansel's inspiration for every acting role she's earned, she was rocking a sweaty and gnarly bandana or fucking the dude who looks like the brokeback version of the coach from
Grease
, or hanging out with a pre-pubescant bitch. How cool are you that you're a camp
councelor who's wanging the owner and your best friend is like 6 years younger than you? Pretty rad if you ask me.
However, she's got skill to blare out insults like Simon Cowell forced to wear a white T and has this "oh no you didn't" face that single-handedly is why Shaniqua don't live here no mo. She tortures poor Angela but you know what, you can be a glaring mute all you want, you have to play camp games...bitch. I gotta give her some credit for being able to fold her arms in a fashion that makes Sinbad and Robin Williams jealous. I seriously think she should write an acting novel about "The Art of Arm Crossing" cause bitch is a pro. Not to mention a fashion guide. Tucked in top, high waisted mom-shorts, and matching bandana? Slamming. However, she is killed off by a super powerful knife that not only punctures through a metal stall, but also her back.
Speaking of gaping black vortexes where a vagina should be, we have Judy. The epitome of a succubus, Judy entrances boys with her B-Cups and draws their eyes to them by putting her own name across her chest. If she's not walking around half naked tantalizing boys with her equally 12 year old gymnast figure, she's torturing Angela.
Angela plays the strong, silent type and Judy's got her legs as wide as her smile. For some reason, although Judy has her pick of any boy, there's the ONE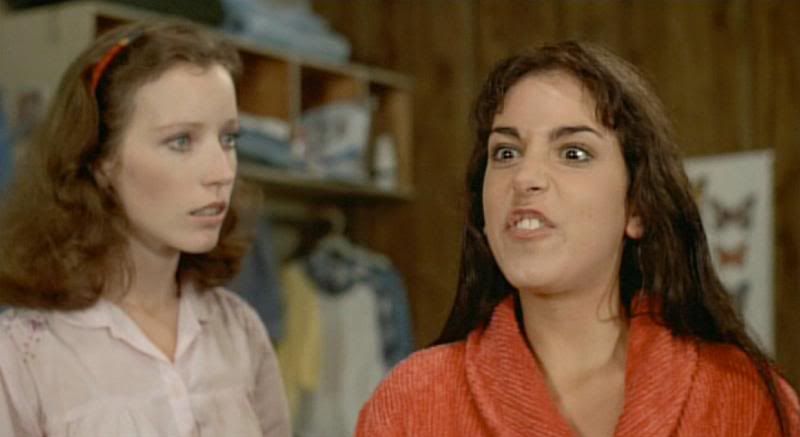 that doesn't want her. He wants Starey McStaresalot. So of course Judy bitches to M-E-G and Angela's karate kid looking cousin, oh yeah and Angela's man-lover Peter. She's a cruel little jerk when she harasses Angela in the cabins for not showering with the other girls. Reminiscent of
Carrie
anyone? However, karma is one hell of a drug and she meets her demise by a curling iron to the vag. Shove that cylinder up it skank.
I salute you two women for being absolutely awful, brain-blastingly bitchy, and captivatingly cunt-ish. You rule.