So, I promised something good so why not have 2 entries in one day?
B_Sol
and I were discussing my blog and the comments I make when I said "Hmm...my readers probably think I'm a lesbian the way I talk on here". He thinks that my Bruce Campbell obsession helps even me out, but thinks it makes you all believe I swing both ways. Regardless....I am a
pansexual
, if you were wondering... Anyways, that's not my point. I've compiled a funny and entertaining list of why my posting probably makes me look dyke-a-delic.
Note: I have absolutely NO problem with the homosexuals. I actually quite adore them. President of my GSA in high school. So please don't comment on my blog being all hateful and junk. It won't be appreciated :)


10) I did an "Ode To Shower Scenes"
:

Yeah, I don't know what my inspiration for that was. Back in my earlier days of the blog I talked about how women have one cliche horror scene to themselves, and that was...the bathroom scene. Which is so true, who would want to watch 45 seconds of a naked dude with his wang all out getting his jaw ripped off in

Mirrors

? Not I.
09)

I Said I'd Marry Anna Falchi: Not only did I say I would love to be married to her, but I also claimed her to have the Best. Tits. Ever. I don't think I will ever see a woman with a body that is quite as perfect as Anna Falchi. Curves with a fabulous rack. Which I will proudly state. I'm secure enough in my sexuality to know when someone is slamming. Anna Falchi=Slammin

g.

Could you imagine being married to that...good God.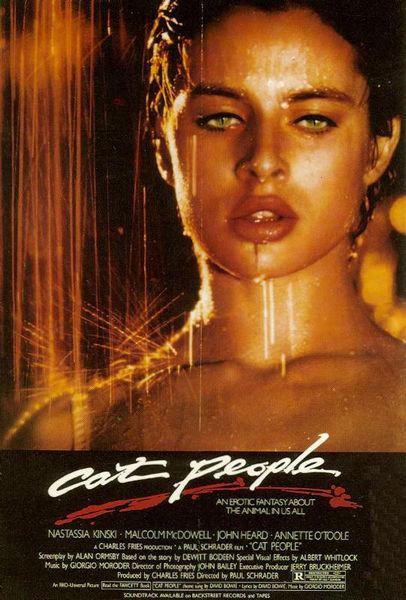 08) I made a list of the
Hottest Women In Horror
:
Not only am I aware of the gorgeous women that have graced the horror screens from every era, but I'm so knowledgeable of it that I managed to make a full blown list of it. The comments made on that list made even my mother and my very serious boyfriend raise a few brows at me. Oh well. I'm just well aware of sextacular women. Is that so bad?
07) My Blog Header is a picture of Camille Keaton's ass

: I'll be honest, I chose the image because it goes along with the title of my blog. Also, I knew that her slamming ass would grab a ton of attention/exposure. Especially since the image is also used on forums as my signature. Anyone can have some weird blood spattered, lame ass zombie banner...it takes a real person to have a bootylicious advertisement scheme.
06)

I thrill at "The Hunger"

:

Okay, so I'll admit, I'm a sucker for seeing Susan Sarandon in just about anything. Once I've seen you as Janet Weiss, I can't shake the image. I love her as a vampire lesbian, and I always will. I mean shit, who wouldn't? She was smoking hot and two is always better than one! God, I really do sound like a lesbian...and I'm only at number 6.
05) I discussed the amazingness that is

porn stars in horror films

:

Yeah, I'll admit it, I know my porn stars. That's not a crime. I'm not some whacko who sits around all day watching porn, but I am a fan of nude modeling. I think it's beautiful and classy. Like the Marilyn Monroe Playboy cover. It's fabulous. I think the female form is stunning and I enjoy all forms of expressing it. My love of it has no weird sexual fantasies or anything tied to it whatsoevever. I just appreciate the work!
04) I Get Sick Joy From

Dick Loss Scenes: Yeah, I went there. In case you missed it, I did a list a while back about the joyous event that is penile removal. The link is NSFW due to the excessive penis puns scattered throughout. I don't know what it is. I am always the person that laughs when a kid gets hit in the groin with a baseball when I should be gasping and running for help. Maybe that makes me an asshole laughing at children with groin pain, but hey..thats why I'm adopting girls.
03) I Describe Julie Walker The Same Way a 16 Year Old Boy Would:
By far one of the the HOTTEST zombies to ever grace the screen. Julie Walker makes piercing glass look foxy. Her makeup is absolutely fabulous, and words cannot even encompass the sexuality that just races around her. She's got a slamming figure, and one of the nicest racks to ever be in the horror genre. Now, ROTLD III isn't a "good" horror movie by any means, but just because the movie isn't up to par doesn't mean you can't have steaming hot memorable characters!
02) I Firmly believe Linnea Quigley dancing on a grave can make anyone question their sexuality:
Face it, she's mindblowingly sexy. I'm not sure if its the fact that she for no reason gets naked and dances, if her body drives us wild, or if its because some guy goes "Trash is taking her clothes off again" referring to the fact that this whole naked dancing nonsense is a recurring event. Regardless, she's a fox and no one can deny it.
01) I write a freaking blog about women:

My entire blog is dedicated to women. Its like i'm obsessed with them or something. The worst part, is that this blog isn't some weird non-shaving, bra burning, the-male-species-is-breeding-stock, horror blog. I just write about chicks in horror films. HORROR FILMS. The genre that picks women for being hot, and able to be in very vulnerable and lack of clothing positions. Horror and Sex are made for each other, and the fact that I love women in horror so much just SCREAMS that I bat for the other team. Either way, I love it, and I'll continue writing and leaving my comments...always.