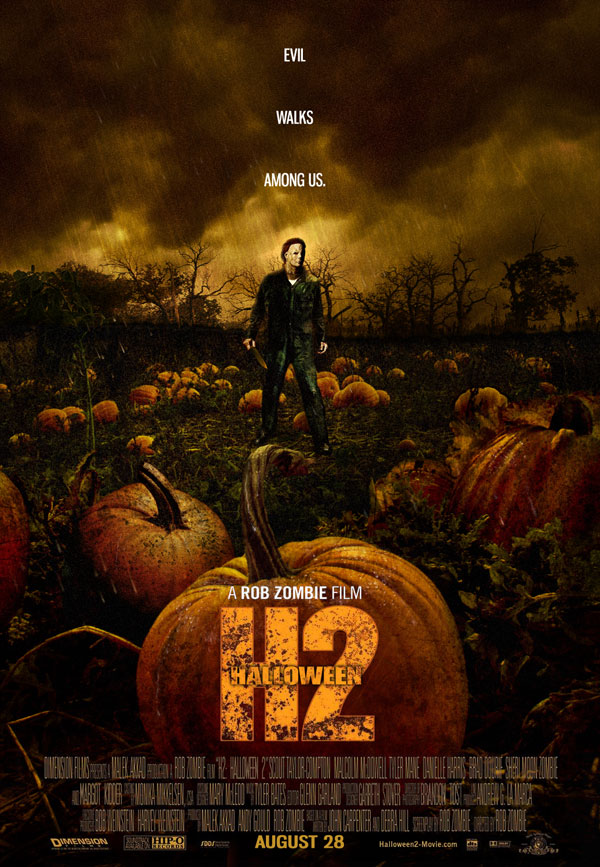 So let there be fingers crossed that this poster doesn't eventually become THE poster for Rob Zombie's
H2.  
There's a ton of speculation as to whether this was an April Fool's joke, or one of the possible contenders of the coveted "mass-produced" poster spot.  I am PRAYING to God that this poster doesn't do it.  First of all, it looks like a posed painting.  Anyone who is able to paint Michael Myers in a pumpkin field without him coming at you and stabbing you in the face...must be invincible OR invisible.  Secondly, the tagline doesn't fit.  "Evil Walks Among Us" okay, I get that, but if you wanted to portray that, put him amongst people, not pumpkins.  Maybe it's just me, but I don't think walking around pumpkin fields alone on a dark and gloomy night is something the majority of people do.  Thirdly, why the FUCK is Michael Myers so damn small? Not just in comparison to the pumpkins, but he doesn't look very buff.  Tyler Mane is a BIG dude, and this scrawny Michael doesn't do him justice.  The original teaser poster did exactly what this one DOESN'T do.  It teased and made me want more.  Someone on
STYD
 made the comment I wish I could take credit for...but I have to agree.  This looks like "It's The Great Pumpkin, Michael Myers!"  I can't take this poster seriously.  It looks like an advertisement of the champion of punkin' chunkin'!!  While Zombie did a pretty decent job with the old one, he also pissed off a LOT of the horror audience.  If I was him, I wouldn't even let shit like this circulate.  The only people that see these posters are NOT the 16 year old boys that take their girlfriends to see a scary movie in hopes of getting some [that make up a good chunk of Zombie's revenue..] ITS THE GODDAMN HORROR FANS THAT YOU PISSED OFF WITH THE LAST ONE.  Luckily, people are smart enough to know that this is most likely not going to be the final poster.