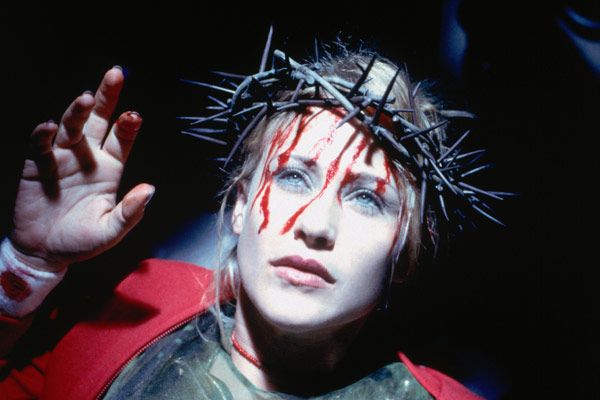 To round up my little jump into the world of Religion in Horror, I'm going to throw in a few examples of religion inspired horror films that are...well, that.  Films that don't necessarily have God as the hero, nor the enemy.  Sometimes these films are based off of religious ideas or adaptations of religious stories, and sometimes the films barely connect to religion whatsoever.  Regardless, Religion inspired this somehow! 
So, I never once in a million years saw any of the Arquettes (Courtney Cox included) as a Christ Figure...but by God, someone else did.  While I personally love Patricia Arquette for being in
Little Nicky
, she's truly outdone herself in the film
Stigmata.  
Now, for those of you who don't know what stigmata is, its when the body starts developing wounds similar to the crucifixion of Christ or symbols of Christ.  This film has so many religious ties it could make your head spin.  Everything from a Priest being excommunicating for "finding the lost gospel" that questions everything Catholicism stands for, to having Patricia Arquette resembling Christ on the cross in a subway train.  Not to mention, she's in love with a Priest....really, did that HAVE to be there?
So I mentioned this film on the first entry of this little dip into Religion, and now its time to dissect (tear it) apart!  So, to start off...I hate Hilary Swank in everything except for
Boys Don't Cry
, so all I wanted when I watched this film was for some Godly force to strike her ass down...anyways...
The Reaping
 explores a woman who has made a career out of disproving miracles.  A former missionary, her family was brutally murdered in a sacrificial ceremony to make it rain.  She goes to a town in Louisiana to investigate a town that is supposedly being "plagued" in a way straight out of the Old Testament.  After a series of discoveries knowing that the plagues are real and that the town is nothing more than a cult like community, it takes a regain of faith to cause the plagues to stop.  Good ups Hilary...
Now, this is another film that I could talk for days about with all of its Religious references.  With "tearing apart souls" let alone tearing a part bodies, breaking deals with Cenobites, and bringing demons from beyond to earth by means of a puzzle box, we see examples from Christianity as well as Mythology at work.  Not to mention, who could forget the infamous scene where this poor sap to the right uttered out "Jesus Wept". (The shortest passage of the bible; John 11:35) Plus, the film is called friggen
Hellraiser
...do I need to go into any more detail...
Rather than go in depth into each and every horror scenario as well as every horror film that contains religion, I will end this little trilogy of posts on a quote from
The Mist
interpret it as you will...
"As a species we're fundamentally insane. Put more than two of us in a room, we pick sides and start dreaming up ways to kill one another. Why do you think we invented politics and religion?
"