Why yes, Elvira: Mistress of the Night, is NOT what is written on Cassandra Peterson's birth certificate. Made infamous for KHJ's weekly showing of
Movie Macabre
, which had Elvira in her buxom gothic gown presenting horror movies to blood-thirsty fans. Although she had an extremely vamp look to her, Elvira is adored for her wit, and girly voice. Her name is even TRADEMARKED. How many people can say that?
Cassandra got extremely lucky to be given the horror host role, as they originally intended the host to be Vampira herself, Maila Nurmi. Thank god, the producers were intelligent enough to know that Maila IS Vampira, so the name Elvira was chosen instead. Not to mention the whole lawsuit ordeal...that's something for you kids to go google.
Elvira's films were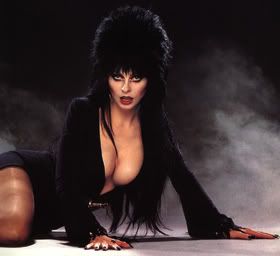 always B-Movies and she is definitely the queen of the B-Movies. Her character became so idolized and recognized out of Los Angelos, that she starred in a handful of movies about the character, guest appeared on numerous TV shows, and even recorded 5 vocal albums.
Not to mention, Elvira is the the first person to be broadcast in 3-D in America. She's also the first female celebrity to do a beer campaign. She's also got her own beer and purfume lines. Plus, her costume is the #1 Female Halloween costume ever sold. Outside of the Elvira character, Cassandra Peterson is the youngest Vegas Showgirl on record. Plus, SHE DATED ELVIS. How cool is that? Plus, she's the naked chick on the cover of Tom Waits' album
Small Change.
Something else I personally love is that Saw: The Ride needs to step off! During the Halloween season of Six Flags Great America's "Fright Fest", there's a 3-D ride hosted by who else, but Elvira herself. She appears on the screen to take you through her wild 3-D ride of a haunted house. Plus, she has her own VIDEOGAME!
In 2007, She even hosted her own reality show
The Search For the Next Elvira.
Homegirl needs a break every now and then, so why can't she have her own look a like to take off some of the stress?
She's an iconic character, and one that I hold dear to my heart. Hell, I dressed like her for Halloween for 4 years in a row....before I hit Junior High school....In the simplest terms. She does EVERYTHING. In my opinion, she's the Wonder Woman of the horror franchise. Sad to say, 90% of the population probably wouldn't know Cassandra Peterson from their neighbor without her beehive and drag makeup. Glad you all could read along, but now it's time for me to be gone, hope you all have
unpleasant dreams....